PhoneWorld Hardware Store: 3.0 USB Flash Drive
PhoneWorld 3.0 Powerful USB Flash Drive – Reference PW 560
USB 3.0 devices are defined as high-speed devices that follow the USB 3.0 specification. An ultra-portable storage device replacing floppies and CD's. Windows and Mac compatible. 16 GB, 32 GB and 64 GB.
The USB 3.0 data port is used to connect a variety of peripheral devices such as mice, keyboards, printers, scanners, external hard drives, video game consoles, digital cameras, mobile devices and network adapters. Another widespread and convenient USB device is the flash drive or memory stick, as per the PhoneWorld 3.0 Flash Drive.
Specification:
- Connection: USB 3.0
- Capacity: from 16 GB to 64 GB
- Working temperature: approx. -40 ~ 70 °C
- Storage temperature: approx. -20 ~ 55 ° C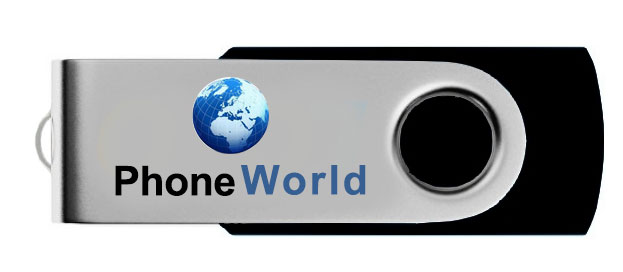 System Requirements:
Windows Vista / Windows 7 / Windows 8
Windows 10 / Mac OS X v. 10.6 + / LINUX 2.6

First Use:
• Start your computer
• Insert USB flash drive into the USB port of your computer PC / Mac
• Wait for the hardware to install on your computer automatically. The system will show you the new drive
• You can now store data on the shown new drive
• It is important that you remove the USB flash drive by clicking on the Safety Remove Hardware Icon
• You can now unplug your USB flash drive from your computer
We welcome worldwide inquiries from importers of electronic products to apply for exclusive distributorships in their respective countries.